A Leading Aerospace Fasteners and Hardware Distributor & Stockist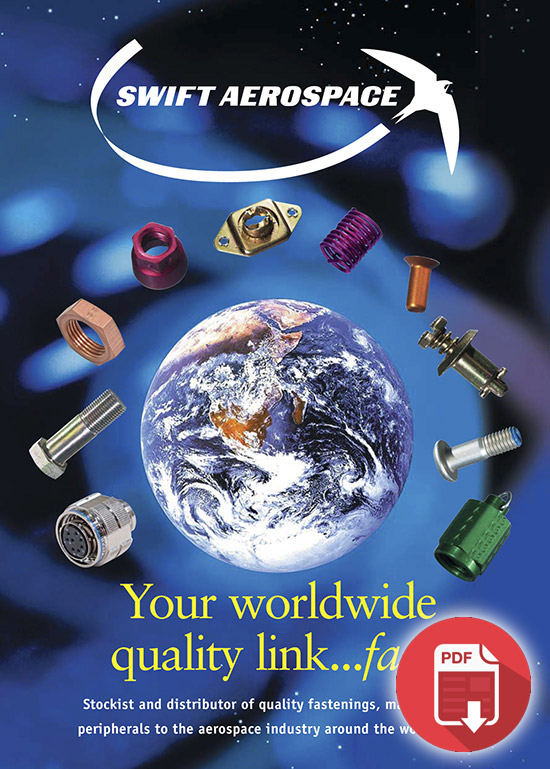 We are a leading distributor and stockist of approved fasteners & hardware servicing the global aerospace industry. Swift Aerospace partners with major aerospace OEM's and their supply chains to source aerospace fasteners/hardware and are experts in the design of bespoke inventory management solutions.
Established in 1992 in the UK, Swift Aerospace has built an enviable reputation for developing long term supply partnerships with aerospace customers across Europe and North America. The investment in a state-of-the art warehouse in Malaysia is a critical milestone in our strategy to further enhance Swift's capabilities in servicing customers in the fast growing Asia/Pacific aerospace market.
We specialise in the sourcing, stocking & distribution of fully traceable British, European and American standard hardware - in particular AN, MS, NAS and Kaynar Microdot specification fasteners and hardware as well as "difficult to locate" parts.
Swift Aerospace is also the first choice for customers looking for a tailored supply solution for their aerospace fastener needs; with our multi-lingual customer service team as well as invoicing in the currency of your choice, our aim is to be flexible to your business requirements.
From fast response to ad hoc requirements to the design, implementation and management of more complex inventory solutions, we take the time to understand the specific requirements of your business.
We can offer a wide range of solutions including Kitting, Direct Line Feed (DLF), 24/7 look-up Stock Management Databases, Consignment Stock, Vendor Managed Inventory (VMI) or more conventional Long Term Supply Agreements.
Whether you are looking for supply chain solutions, aerospace fasteners or hardware, listed or not, titanium bolts, barrel nuts or camlocs, please contact us for a quotation and expert advice..
Downloads